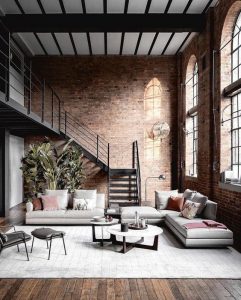 Photo credit: http://bodyartstyle.com/great-ideas-for-beginners-in-living-room-decoration-2019/31/
When I think about industrial interiors I think of loft conversions, exposed ducting, Iron beams, brick, concreate, large industrial windows, ironwork, and raw materials. The colours are usually darker with shades of Grey, and Black. You could say that industrial is the most unpolished of interior designs, representing a harsher time period with a nod to the industrial era. When working with an industrial style home interior, it's all about balance. It is important to bring in items that soften the space in order to balance the harshness of the primary design.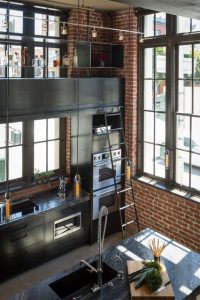 Photo credit: https://theinteriorsaddict.com/why-biophilic-design-is-increasingly-important-right-now
A good place to start with this is with linens and upholstery. Bring in whites and creams to brighten the area. Overstuffed pillows, billowing comforters and soft couches or rugs will make the space cozy. Bringing in elements of nature like green plants and natural wood can warm up your design. Live edge wood tables, wood stools and wicker chairs are all great ways to keep your design industrial while also inviting. If you are wanting a splash of colour think about hues of dark blue and green.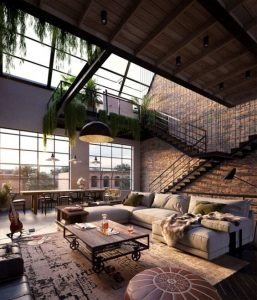 Photo credit: https://www.kathykuohome.com/Styles/IndustrialLoft?utm_medium=301&utm_source=https://www.kathykuohome.com/Product/Collections/IndustrialLoft
Photo credit: https://www.delightfull.eu/en/projects?utm_source=jtarvainyte&utm_medium=bestinteriordesignersusa&utm_campaign=pinterest 
On the cooler side, the industrial design is best represented with simplicity, clean lines and a lot of metal. Things like metal pipe light fixtures, hairpin legs, metal rivets on furniture and black iron railings to just name a few. Brick walls or brick veneer can also help to add character and showcase the beauty of the industrial design style. Counters are often concreate and upper cabinetry is usually replaced with open shelving. Floors are usually polished concreate or plank wood.
For some ideas and inspiration on this style of interiors you can visit our Pinterest board found here: https://www.pinterest.ca/westmanrealty/industrial-home-interiors/
Until Next Time,
Ruth Loewen
Century 21 Westman Realty